When it comes to pet care, most people are very dedicated to their beloved four-legged family members; from choosing the right pet food, treats, and toys, to spending lots of quality time together, doing activities that everyone enjoys.
One of the areas that are most often overlooked, however, is pet dental care. As a matter of fact, periodontal disease affects 80% of dogs and 70% of cats over the age of 3. How do you know if your pet has it? Symptoms may include:
Bad breath
Loose or missing teeth
Mouth and gums that are sensitive to touch
Decreased appetite
Weight loss
There are four stages of periodontal disease, and each stage is indicated by the amount of damage done to the teeth's supporting structures. If left untreated, this disease can cause tooth loss and even internal organ damage.
Before we take a closer look at how to protect your pet, when was the last time you examined your pet's mouth? You may want to take a look and see how it compares to the image below.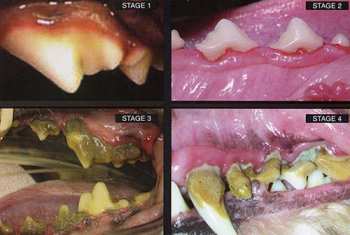 Oral Exams
Each time you bring your pet in for a wellness exam, our veterinarians will carefully check his or her teeth, mouth, and gums. If your pet's mouth is healthy, we will discuss at-home care to help ensure it stays that way. This includes feeding your pet a nutritious diet and brushing his or her teeth. We will be happy to demonstrate how and provide you with the proper pet toothpaste and brush.
In some cases, our veterinarians may recommend additional plaque-deterring products. These could range from special pet dental treats and chews to oral rinses, similar to a dog or cat version of Listerine.
If your pet is showing signs of periodontal disease, our veterinarians will recommend a dental cleaning. When the disease is caught early—at stage 1 or 2—the procedure is much less invasive. Once it reaches stage 3, the disease has already compromised the affected teeth's supporting structures and integrity. In these cases, a much more intensive cleaning is required. Sometimes dental surgery or extractions may also be necessary.
Professional Pet Dental Cleanings
Pets require general anesthesia prior to having a dental cleaning. As the photos of each stage of periodontal disease show, tartar is quite unsightly—but the problems under the gum line are actually a lot worse. By using general anesthesia, we can adequately clean under the gum line, visualize all of the tooth surfaces, and perform any necessary supporting procedures.
In addition to taking advanced education classes, our veterinarians and staff collaborate with board-certified veterinary dentists to ensure that we are on the cutting-edge of pet dental care. We will do everything possible to ensure that your pet receives the quality veterinary dentistry treatment he or she needs in a compassionate manner.
A Walk Through of Your Pet's Procedure
Prior to your pet's dental cleaning, we must perform blood work to ensure that he or she is healthy and able to tolerate anesthesia. The night before the dental procedure, your pet should not eat after 9 p.m. However, he or she may drink water.
Check in—The morning of the procedure, one of our certified veterinary technicians will admit your pet into our hospital. Then, our veterinarians will administer a pre-anesthetic sedative, which is a medication that promotes relaxation and prevents tender or sore gums following the procedure.
Induction of anesthesia and intubations—After inducing sleep, we will place a soft, rubber endotracheal tube into the trachea. Through this tube, we will administer anesthetic gas and oxygen. Using the endotracheal tube allows us to not only control anesthetic gas and oxygen administration but also to prevent bacteria in the mouth from moving into the lungs.
IV catheter—After your pet has been placed under anesthesia, we will begin IV fluids, using an IV pump to control the rate of administration. IV fluids help to maintain hydration and proper blood pressure during the procedure and flush drugs from the system afterward.
Anesthetic monitoring—Our veterinarians and certified veterinary technicians will attach specialty veterinary monitors to your pet, enabling us to continuously track heart rate, blood pressure, blood oxygenation, temperature, respiration rate, and electrocardiography (ECG) the entire time he or she is under anesthesia.
Scaling—During the first step in the actual dental procedure, one of our trained veterinary technicians will utilize an ultrasonic scaler to remove plaque and tartar from tooth surfaces. A dental curette will then be used to remove deposits under the gum line.
Probing—Often, tooth health cannot be fully determined when a pet is awake. Once you pet's teeth have been cleaned, our veterinarians will use a dental probe to explore and evaluate the health of each tooth. Commonly, we will find periodontal disease under the gum line that was previously undetectable. At that point, we can further evaluate the diseased teeth to determine whether they can be repaired or need to be extracted.
Dental radiographs—Using digital dental radiographs (X-rays), our veterinarians will determine the amount of periodontal disease hidden around the tooth root. When extractions are needed, radiographs ensure the entire root has been extracted.
Extractions—If advanced periodontal disease is identified, our veterinarians can employ several techniques to save affected teeth. We can perform gingival flaps and deep root planning, as well as use biomaterials to help regrow lost bone. In certain cases, substantial damage necessitates tooth extraction.
Polishing—Scaling produces micro-fissures on the tooth's surface that bind bacteria. Polishing enables us to smooth these fissures out, helping to prevent plaque and tartar from returning.
Fluoride treatment—Fluoride gel or foam will be applied to help strengthen tooth surfaces.
Charting—After the dental procedure, we will carefully record your pet's dental abnormalities in his or her medical record.
Home care—Now that your pet's teeth are cleaned, our veterinarians will develop a preventive dental plan that is tailored to your pet's needs.